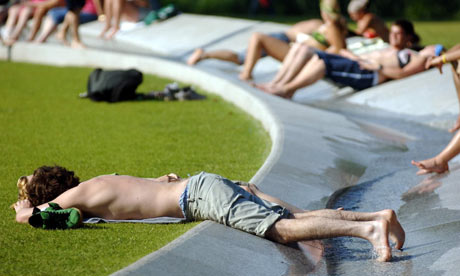 Something I have been struggling with for the past couple of weeks is the heat. I like to be well dressed, wearing shirts, jackets and trousers but when it's this hot, it's not practical. So I've put together a selection of items that allow you to stay cool and be well dressed, without having to go topless with your feet in water. Hopefully these will still leave you with money spare to spend on ice creams...
The Short Sleeve Summer Shirt
Left:
ASOS - White Oxford Shirt
- All it is is a plain white short-sleeve shirt and because of this, you can wear it for anything and with anything. A good addition to any wardrobe.
Price: £19
Right:
Next - Navy Geo Print Shirt
- Slightly more daring than the plain white shirt, but still nothing too fancy or bold. The blue will go with a huge number of outfits and so it still lets you be bold elsewhere.
Price: £25
Left:
Topman - Green and Black, Cut and Sew Shirt
- Cut and sew is in. Essentially, any form of block colouring is good right now and if the combination is as good as green and black, you're pretty set. Please make sure to not wear with yellow.
Price: £32
Right:
River Island - Navy Leaf Chambray Shirt
- Chambray is good for summer. Really good. It'll keep you cool and fresh throughout the day. Plus, this season for menswear is a lot about florals and definitely a lot about being bold. This captures both, without making you look like a middle-aged war veteran that misses his time in Hawaii.
Price: £30
The Not-Too-Short Shorts
Left:
ASOS - Burgundy Chino Shorts
- These are as simple as they get when it comes to shorts, but burgundy is a great colour for this season and would go so well with the white shirt about (or even the two blue ones).
Price: £22
Right:
Next - Grey Printed Geo Chino Shorts
- I've spotted these at work now that the new collection has come out and I love them. Wearing grey shorts is an easy way to tie in any outfit, they're like the shorts equivalent to the white shirt. The print on these is nice too, just simple but effective.
Price: £26
Left:
ASOS - Denim Shorts
- Do I need to explain myself on this one? If you haven't seen someone wearing denim shorts this summer then you're actually blind. Seriously, you can't go wrong with denim at the moment and if you manage to make denim look bad then you're a miracle worker.
Price: £22
Right:
Topman - Blue Seersucker Mid Shorts
- If you want to keep cool this summer then wear something made from seersucker. It may take a bit of adjusting as at first, it may feel like you're naked as they'll be that light. The blue stripe is a good look too, but make sure you don't add another set of stripes, otherwise you'll begin to look like a toothpaste advert.
Price: £30
This is just a quick selection to stay cool and stylish for summer. If you're wondering what shoes to pair these all with then take a look at my post on suede shoes for summer (found here).
Cheers guys,
O&U.